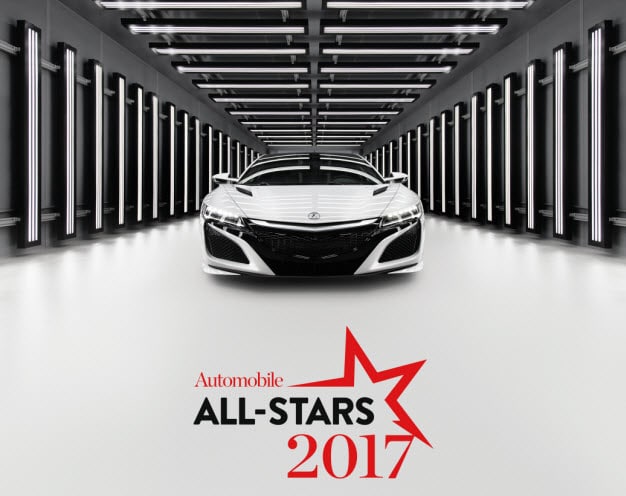 We are proud to announce that the latest Acura NSX has been named a 2017 AUTOMOBILE All-Star. The American-built supercar is one of six cars to receive the honor due to its exceptional driving dynamics, innovative technology and captivating design.
"We're extremely proud to have the pinnacle Acura vehicle, the NSX, recognized with one of the industry's pinnacle honors, the Automobile All-Star award," said Jon Ikeda, vice president & general manager of Acura. "With NSX, we set out to deliver a unique expression of Acura performance, and this honor further validates that Acura is a performance brand."
AUTOMOBILE considered 23 newly updated models for its prestigious accolade. Each vehicle was tested on the road and track to determine which ones perform above and beyond expectations. When the votes were cast, the 2017 Acura NSX came out on top thanks to its incredible performance. According to AUTOMOBILE, the supercar challenged many other exotic supercars and consistently put a "grin on drivers' faces."
Fitted with a turbocharged 3.5L V6 and first-class hybrid technology, the all-wheel-drive NSX produces a total output of 573 horsepower and 476 lb.-ft. of torque. It receives support from a nine-speed automated manual transmission and can go from 0-60 mph in 3.0 seconds.
Come test drive the 2017 Acura NSX at Vandergriff Acura now to experience what this supercar is made of.