Today's vehicles are all about connected tech. Sure, you've still got the vibrant exterior coat of paint, the luxurious interiors, but at the heart of your captain's seat is always going to be that center dash that hooks you up with your world. Navigation, entertainment, and productivity apps are all central components of this new age of connectivity. This new Touchpad Interface is making big news in the automotive world today as a true "touchpad" with no cursors or anything else to obstruct the view of your navigation center. That's not all there is to appreciate about True Touchpad. Today we're here to cover the central features that will impress you the minute you step into your Acura and access your world.
Acura True Touchpad Interface™ Features
What sets the True Touchpad apart from other touchscreen dashes? That's what we're here to find out!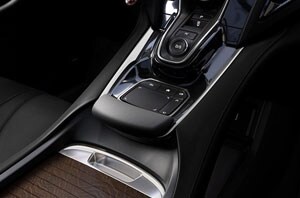 Higher mounted HD display: The higher the better in this case. Thanks to the higher positioning of the touchscreen dash, you'll feel like you're more in control of your navigation center. And there's a lot to control here. A 10.2" display is in full HD, giving you a crisp, orderly view of your digital world in a way that other dashes just don't capture.
Absolute Position: This is a "true" touchpad here, just like you'd find on your phone or a touchscreen computer. You don't have to rush to locate a cursor because there isn't one, and we all know how convenient this is. It's a true touchpad, just like it says, and you'll never have to worry about navigating a cursor or other time-consuming device on the screen. It's your world.
Multi-content viewing: You've got a two zones on your touchpad, so you're going to have a primary and secondary screen to enjoy. This gives you the ability to have multi-content viewing, an extremely handy thing for many chronic multi-taskers who appreciate the ability to get two things done at once. And this system accomplishes this without detracting attention away from either screen.
Voice recognition: This is one of the better voice recognition systems out there right now, and it all fits in perfectly with the absolute perfection of the true touchpad interface.
As you can see, there's plenty to love here, and Acura owners are going to be the lucky recipient of this technology. Thanks to multi-content viewing, voice recognition, and a true touchpad interface, you're going to find yourself enjoying an experience that isn't offered on other brands right now. It's a one-of-a-kind opportunity to experience a true touchpad interface in a vehicle.
Learn More about Acura Technology Today
If you're curious about the more in-depth features of these vehicles please don't hesitate to call us or stop by to test it out for yourself. Some things are best experienced instead of explained, so we strongly urge you to take a test drive of the Acura so that we can show you all of the many features of True Touchpad.