Your Acura dealership sends you a warm greeting. We understand that you may be interested in or just purchased a 2019 vehicle from us and have questions about using the keyless entry. Troubleshooting steps also can help you make the remote work again if you're having trouble with it.
How an Acura Keyless Entry System Works
You may have a different experience than another Acura driver would. It depends on your settings and preferences. In addition to starting your car from more than 300 feet away, the Acura keyless entry system can perform one or more of the following actions:
Unlock your car door. You may even be able to approach certain RDX models with the key in your pocket, and it will open the door.
Adjust your seat and radio. If you have not set your remote to sense it as you walk toward your car, you might have this take place as you touch the driver's side door handle.
Set your air conditioner or heater how you like it. This action could also occur as you approach the car with the key in your pocket depending on your model and settings.
Adjust your steering wheel and side mirrors just right. This also can happen when you touch the driver's side door handle.
Lower your car windows and open your sunroof. On some vehicles, you can press the remote button twice to make this happen.
How to use the Acura Keyless Remote
Usually, you can just press the button on your remote to start your car. As long as you are in range, you will notice a green light on your remote flash one time when the car starts. If a red light appears, the car did not start or one of your doors, hood, trunk or tailgate is open. As you leave your vehicle, you will notice an amber light flash on when you successfully lock your doors before walking away from it.
What Should You Do if the Remote Doesn't Work?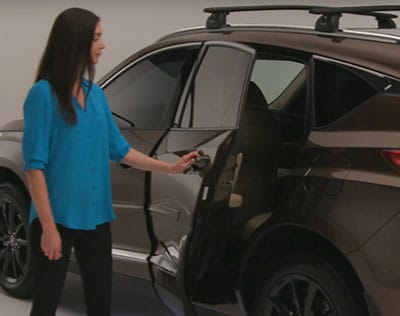 Several troubleshooting steps can be taken depending upon your issue. First, you may need to remember some primary pointers for making your system work.
For instance, your car must be in park ("P") if you want to later be able to start it or use any of the other locking and unlocking remote functions. You also will want to make sure the security or panic alarms are not activated before you walk away from your vehicle, or they might turn on when you don't need them.
In addition, you must double check that all your doors including your hood and trunk or tailgate are closed and locked. It also helps to make sure your keyless entry remote battery is always charged. One of the most common reasons for remote key failure is a poor battery. Either charge it or have it replaced before using it again.
If you need more assistance using your Acura keyless entry remote, please contact Vandergriff Acura today.