Mid-Engine Melee: The Pinnacle of Acura tech versus Modern American Muscle
Some of the most respected and notable sports cars throughout history are built with a mid-engine layout. The mid-engine layout allows for optimal weight distribution, which is key to developing sharp handling and traction in extreme cornering. The Acura NSX is one of the legendary mid-engine supercars that took a hiatus in the early 2000s, but has been recently re-birthed and re-engineered from the ground up.
This new NSX has been much anticipated for years, but a new and unexpected convert to the mid-engine clan has been making tsunami-sized waves in the automotive world. The 2020 Chevrolet Corvette has abandoned over 60 years of front-engine, rear-drive muscle-car mastery in favor of the mid-engine format. With this move, Chevy is pushing to elevate the Corvette from world-class to world's best.
The new 2020 Acura NSX features a sport-hybrid drivetrain, a shift that adds two electric motors to the front wheels, while the rear wheels are powered by a twin-turbo V6. The result is a 573 horsepower all-wheel-drive system that also cranks out 476 lb-ft of torque. The 2020 NSX was engineered with optimal placement of major components for the lowest possible center of gravity.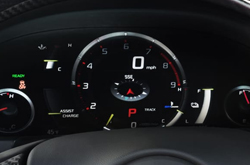 Mated to the robust, dual-clutch transmission, the drivetrain is capable of propelling the 2020 Corvette from 0-60mph in 2.9 seconds. The lower center of gravity and rear weight-bias of the new Corvette make it one of the most stable Corvettes ever produced. When you combine the most stable Corvette layout ever with the most powerful engine ever put in a Stingray Vette, you get the jaw-dropping performance that takes the Corvette to the next level.
This keeps the NSX planted when approaching the approximate 191 mph top speed, and allows the NSX to navigate high-speed turns with ease. Thanks to the innovative electric-powered front wheels, the NSX pulls out of corners just as aggressively as it enters them. The original iconic NSX was considered to be ahead of its time, and fittingly, the new 2020 Acura NSX may be our first look at the supercar of the future.
The all-new 2020 Chevrolet Corvette is a complete departure from Corvette tradition. Gone is the traditional long nose with a racy hatchback silhouette of the past. In its place is a chiseled, cab-forward driving machine. The Corvette heritage is not completely lost, with the all-new LT2 V8 remaining the heart of the beast. The 2020 LT2 in the Corvette produces 495 horsepower with 470 pound-feet of torque.