Vandergriff Acura Is at Your Service!
Free Road Hazard Tire Repair / Replacement
Online Appointment Booking
Shuttle Service
Vehicle Pick Up / Delivery
Rewards program
Certified Acura Technicians
High-Speed Wi-Fi
Courtesy Vehicles
Quality OEM Acura Parts
State-of-the-Art Service Facility
Entertaiment Area
Lounge Area
Welcome to the Vandergriff Acura service portal. Bookmark this page and check back the next time your vehicle is due for maintenance. Along with the Acura service specials and coupons featured above, you can also use this page to access our schedule service form online 24/7/365. For your next oil change, tire rotation, windshield repair and more, you can schedule service from the comfort of your own home or office - it's quick and easy! Once you submit a form, one of our friendly associates will confirm your appointment date and time. Click the link below to get started.
Need Auto Repair in Arlington? Click Here
Vandergriff Acura's Concierge Program
We're proud to offer concierge service for Acura drivers. Available Monday through Friday, the program offers a luxury-level experience to patrons of our Acura service center in Arlington, Texas. Sign up and the next time you need maintenance for your Acura, you'll follow a simple, convenient process:
1. Make a reservation in our service department by calling (817) 299-2463.
2. We will come and pick up your vehicle for service.
3. When the service is complete, we'll call you to confirm, answer any questions that you may have and take your payment information by phone.
4. When your transaction has been finalized, we'll bring your vehicle back to you.
You never have to step foot in the dealership, meaning you won't need to spend your Saturday or weekday work time having to come in for a car repair
Standout Perks & Amenities
The onsite amenities at our Acura service center in Arlington also offer a luxury experience to those who have time to come into the dealership. After being greeted and assisted by our friendly, professional staff, patrons find comfort in the lounge area, where there are comfy sofas, complimentary snacks and beverages, free Wi-Fi, HDTVs and computer work stations. To accommodate guests with children, we also have a fun kid's playroom. While we replace your car's air filter or perform a quick brake service, you can surf the web or watch television, just like you might do at home on a Saturday afternoon. Free shuttle service and loaner vehicles are also available or you can choose one of our stylish rental vehicles. In addition, free car washes are included with every service, so your vehicle will be shiny and clean when you get it back.
Access to Mechanical Protection Plans is another perk of doing business with Vandergriff Acura. With an MPP extended service contract, you can protect yourself against surprise repair costs associated with vehicle breakdowns, failures or other mechanical issues.
We Use Genuine Acura Parts & Accessories
We're your headquarters for Acura auto repair in Arlington. For all of your vehicle maintenance needs, including fuel system service, car AC repair, auto glass repair, battery replacement, engine work and much more, our team of Acura-trained and certified technicians can help! We also have genuine OEM parts on hand that offer quality you can trust! When your vehicle is due for service, whether it's a major job that requires intricate work or a simple service that's charted in your Acura maintenance schedule, come to us and we'll give your car the care and attention it deserves.
*Concierge Service is available for anything more than minor maintenance (e.g., oil changes, tire rotations, wiper blade replacement, etc.). Please contact us for details.
If you have any questions regarding service, check out our service FAQ.

A lot can happen in an hour. In our client lounge, time flies right by. In our service bays, specially trained Acura Accelerated Service Technician teams fit a long list of well-choreographed tasks and inspections into a surprisingly short time.
With every Acura Accelerated Service, your vehicle will receive a complete service and a multi-point inspection. All of this performed in 60 minutes or less by Acura-Trained Technician Teams who use Genuine Acura Parts and Fluids. You have the option of a complimentary wash and vacuum that will extend the total service time to just under an hour.
The experience starts when you arrive. You'll be met by a Service Consultant waiting to expedite your check-in. You'll find it fast and more convenient than ever to wait while your service is being completed. Our client lounge offers quiet, comfortable seating, wireless internet access and complimentary refreshments.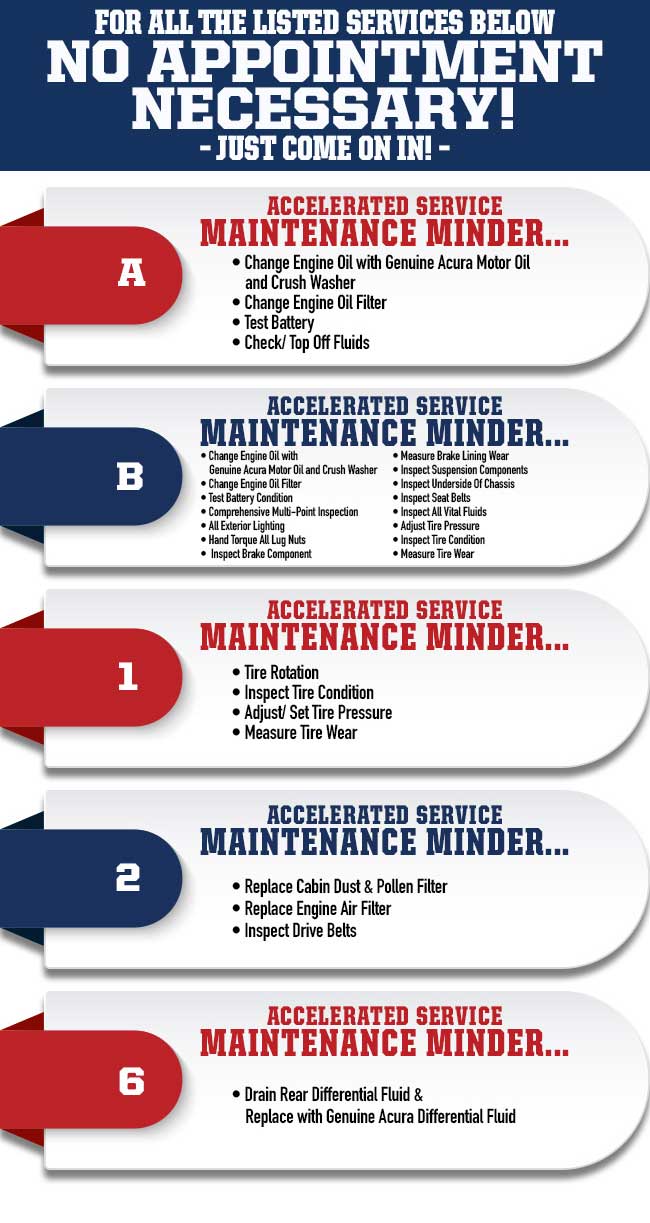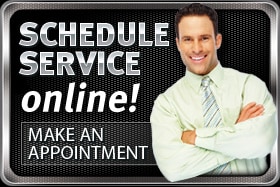 Service Department Hours
Monday

7:00 AM-7:00 PM

Tuesday

7:00 AM-7:00 PM

Wednesday

7:00 AM-7:00 PM

Thursday

7:00 AM-7:00 PM

Friday

7:00 AM-7:00 PM

Saturday

8:00 AM-5:00 PM

Sunday

Closed