Acura AC Repair in Arlington, TX
Most modern Acura vehicles are equipped with air conditioning systems. It's something that many drivers take for granted and don't even think about. We're so used to coming out of our cool homes and continuing that comfort once we hit the road. However, when your car's AC system stops working, your daily commute can turn into a nightmare. Even on cooler days, the sun beating overhead will quickly turn your car into an oven. We know how frustrating these issues can be. Luckily, most problems can be repaired here at Vandergriff Acura. There are many reasons why your Acura's AC system may stop working. The first step of the repair process is to diagnose the problem.
Why Isn't There Any Air Coming Out?
There's nothing worse than stepping into your car on a hot day, flipping on the AC, and receiving no air whatsoever. If there's nothing coming out of the vents, the most likely culprit is the blower motor. This component is responsible for driving air throughout the system. It's also responsible for ventilating the existing air inside. If it stops working, your entire system fails.
The good news is that blower motors are completely separate from the actual cooling components. Your evaporator core and refrigerant may still be working. There's just no air in the system to cool. In fact, it's not uncommon to see condensation around the air vents when the blower motor fails. Depending on the design of your car, your dashboard may be cooler to the touch. It's as if the cool air is trapped and unable to get out.
If you notice that your air conditioner is weaker, cutting in and out, or taking a bit longer than normal to start up, have your vehicle looked at by one of our technicians. These are early signs of blower motor failure. If you act fast, you may be able to address connection issues and avoid a full motor replacement. We'll work hard to get your Acura's system up and running in no time.
Why is Water Leaking Into My Car?

Water getting inside your Acura is never a good sign. It can make your car feel sticky and result in a bad case of mold if left unattended. While there are numerous possibilities of why this is happening, one of the most common causes is related to your air conditioner. Take a look at where the water is leaking. If it's near the floor on the front passenger side, it's probably an issue with your evaporator.

The evaporator is responsible for getting rid of humidity in the cabin of your vehicle. The humid air passes over cooling components and condenses. The evaporator is typically built with a reservoir that's designed to catch this condensation. Eventually, it will travel down drainage tubes and exit at the bottom of your vehicle. However, dirt and debris can cause a clog that prevents the water from draining. Furthermore, the quality of the tube material can deteriorate over time. The rubber seal and the drainage tube itself can become cracked, causing slow leaks over time.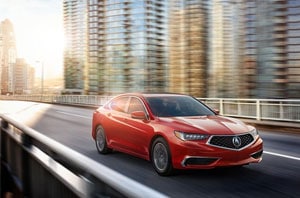 We can take a look at your Acura to diagnose the problem and find a solution that works. One of the best ways to avoid serious AC problems is preventative maintenance. Here at our dealership, we can perform a thorough performance check. We'll find issues early on so that they can be addressed and you'll never have to worry about driving without the comfort of cool air.
Service Hours
Monday

7:00 AM-7:00 PM

Tuesday

7:00 AM-7:00 PM

Wednesday

7:00 AM-7:00 PM

Thursday

7:00 AM-7:00 PM

Friday

7:00 AM-7:00 PM

Saturday

8:00 AM-5:00 PM

Sunday

Closed