Acura car owners in the Arlington area are no strangers to Texas' hot temps in the summer, but few are aware of just how much the heat can affect their car's battery. When it starts to heat up outside, so does your car battery, which can lead to a shortened battery life. It's common for car batteries in Arlington to last less than three years due to the climate, but there are ways you can help protect yours from dying prematurely. In fact, simple Acura car battery maintenance can make all the difference when it comes to your battery's lifespan.
These annual car battery services can help prevent you from experiencing battery failure:
Battery Diagnostic Exam
Our skilled service technicians at Vandergriff Acura can perform a battery diagnostic test to determine if your battery is performing as it should be. If the charge is low, we suggest seeking car battery replacement as soon as possible.
Clean Battery Terminals
We recommend having your battery terminals cleaned annually to avoid corrosion and potential battery failure. You should also have an anti-corrosion spray applied to further protect your Acura battery.
Battery Cable End Replacement
Serving as the connection between your battery cables and your battery terminal posts, battery cable ends are an important part of your battery's functionality. It's best to have them inspected annually for damage and/or replaced to prevent battery failure.
Schedule an appointment with our team at Vandergriff Acura to have these car battery maintenance services completed yearly. Additionally, you can help protect your battery at home by turning off all interior lights before exiting your car and removing power adapters when not in use. It's also  recommended that car owners drive their Acura for more than 20 minutes a day to properly charge their car battery and prevent a shortened lifespan.
When to Receive Car Battery Replacement in Arlington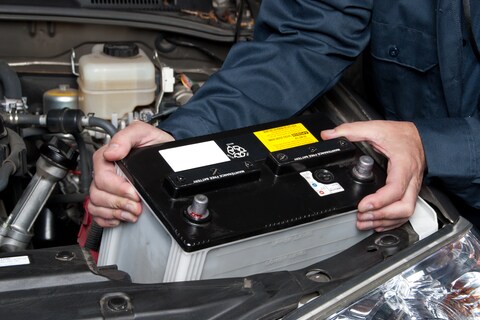 Car battery failure can be easy to spot when you know the proper warning signs to look out for. Keep an eye on your car for these symptoms to determine if you are in need of a new car battery in Arlington:
Engine cranks slowly
Engine won't start
Headlights & electronics are dim
Low battery fluid
Swollen battery case
If you experience the above issues, we can help! Our inventory is complete with great battery options for your unique Acura model. Contact us for more information.