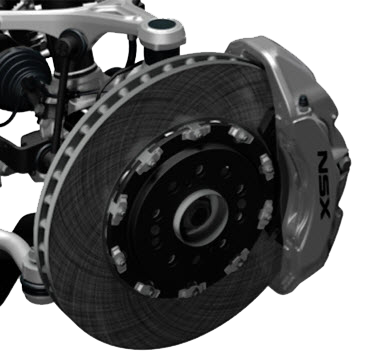 Learn about Acura brake service below, where we've outlined information regarding symptoms of brake wear, how often to inspect brakes and more. Brakes are one of the most important safety components on your car, so it's important to give them the care they need. When your car or SUV is due for brake service in Arlington, our team can help. You can also order OEM Acura brake pads and other parts on our website.
SPONGY BRAKE PEDAL
If your car's brake pedal feels spongy, there could be air in the brake lines which needs to be bled out.
PEDAL GOES TO FLOOR
If you notice a leak under your car in combination with suddenly noticing that you have to hit the brake pedal till it's almost on the floor, it's very likely that there is a brake fluid leak.
VIBRATION WHEN BRAKING
When you feel vibration every time you brake, it could indicate that your car's rotors are warped.
CAR PULLS WHEN I BRAKE
If the problem is related to the brake system, and not the suspension or alignment, you may have a stuck caliper, warped rotors or a collapsed brake hose. The issue could also simply have to do with worn down brake pads. For a professional assessment, bring your Acura to our brake shop in the Dallas-Fort Worth area.
HEAR GRINDING WHEN I BRAKE
If you neglect to get new Acura brake pads when yours are due for replacement, they could thin out and leave the rotors exposed. Grinding is typically the sound of the caliper scraping against the rotor disc. Or if you hear grinding even when you're not braking, there may be a foreign object lodged in the caliper.
HIGH-PITCHED SQUEAL
This is the most common sound associated with worn brake pads. When they reach approximately 2.5mm, the brake wear indicator sounds off a warning. If your car is making this noise, visit us for brake service in Arlington, Texas.
BRAKE INSPECTIONS
We recommend having your brakes and brake fluid checked on an annual basis. When pads have reached close to 3mm, it's near the time to have them replaced. Brake fluid flush intervals vary based on several factors, but in many cases they're required approximately every two to three years. It's often overlooked, but brake fluid plays a vital role in driving safety. When it absorbs a certain level of moisture, becoming "wet," it can lead to brake failure. In addition, "wet" brake fluid can cause rusting.
Top-Rated Brake Service Near Me
If you're looking for Acura brake service, visit our brake shop in the Dallas Metroplex. Check Vandergriff Acura's specials to see if we have brake pad replacement coupons available online this month. We alternate specials throughout the year to provide savings on many basic and seasonal repairs.
If you need new brakes for an Acura ILX, MDX, RDX, RLX or TLX, our certified technicians can take care of your brake change service in a jiffy, along with any other maintenance necessary. You can also order OEM Acura brake pads in Arlington on our website if you're looking for parts.