Next time you're searching for a "tire shop near me," look no further than Vandergriff Acura. We are proud to offer a wide range of services for Acura owners in need of tire maintenance near Dallas, including wheel alignment and tire rotation.
Our factory-trained team of service technicians are equipped to handle any tire needs you might require, keeping your vehicle in pristine condition. For immediate service, schedule an appointment online and a representative will contact you shortly.
In addition to tire maintenance services, we have a variety of tires for sale in our inventory. If you're in need of a new set of Acura tires, don't shop at discount tire shops in Arlington. Visit our team to receive assistance in finding the exact tires needed for your model. We have top brands in our inventory, including Michelin tires, Bridgestone tires, Firestone tires and Goodyear tires.
Contact us for further information.
The Importance of Tire Maintenance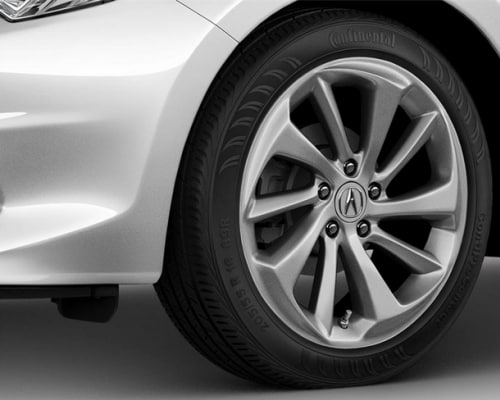 At Vandergriff Acura, we encourage our customers to receive tire service every 5,000 miles to prevent premature wear. At this time, you should receive wheel alignment and tire rotation near Fort Worth in order to avoid the effects of uneven tire wear. We also recommend that owners check their tire pressure monthly to ensure it is at the proper psi. Following these guidelines can prolong the life of your tires and keep your Acura performing at optimum levels.
Bringing your car down to our dealership for tire service in Arlington can also help prevent tire failure. As the cause of more than 11,000 car accidents a year, tire failure is a serious issue, which can often be avoided by following tire maintenance guidelines featured in your Acura owner's manual.
Signs You Need Tire Replacement Near Dallas
There are a number of factors that play a role in tire wear. Age, driving habits, road conditions and neglecting tire service can all effect the life of your tires and lead to premature wear. In addition to these factors, there are certain signs you should look out for that could signify tire damage. Keep an eye out for these when performing at-home inspections:
Shallow Tread - Low tread is an indication you may need new Acura tires. You can check your tread by placing a penny with Lincoln's head pointing down inside the tread. If you can still see the top of his head, your tread is shallow and your vehicle will require tire replacement.
Tire Damage - If you notice bulges, cracks, gouges, rocks or nails in your tires, you likely need new tires. Most tire damage causes slow leaks, which can lead to tire failure if not repaired.
Low Tire Pressure - Tires lose one pound per square inch of air per month. If your tires are deflating at a faster rate, you need to have them serviced immediately. Depending on where the air leak is located, you could be in need of tire replacement.
Vandergriff Acura is a premier dealership you can trust when it comes to tire service and replacement near Dallas. If you're in need of new tires or tire maintenance, stop by our Arlington location for quick assistance and first-class customer service.