Where Can I Find An Acura Transmission Repair Center Near Me?
The transmission is one of the two most important components in every vehicle. If it stops working, the cost of transmission repair or replacement can be expensive. You can save time and money and extend the life of your vehicle by learning how to identify potential transmission problems and how to solve them. Call or visit Vandergriff Acura today to schedule a service appointment.
How Can I Tell If My Transmission Is Going Bad?
Here are 5 signs that your automatic transmission needs service.
Check engine light
If the check engine light in your Acura is illuminated, this can signal a variety of problems or simply indicate that it's time for service. You'll need to know the corresponding ODB code and consider other symptoms your car, truck, or SUV is exhibiting. If you have an ODB code reader and find that you get a P0700 code, this indicates a general transmission problem. Have your vehicle diagnosed at our Acura dealership to ensure timely and correct service and repairs.

Delayed engagement
When shifting out of park and into drive, from "P" to "D", do you notice a long pause or delay before your vehicle starts moving forward? Usually the engine revs, but there's no immediate movement even though you're pressing the gas. This is one of the most notable symptoms of a looming transmission problem. Many people mistake this for a fuel, opting to try fuel additives or injector cleaners. To get the proper diagnosis, bring your car into our dealership service center.

Rough shifts
Rough shifting manifests as clunking and thudding that you can feel and hear when the car changes gears. It usually starts when your car doesn't shift gears as smoothly as it used to. In time, you'll also notice that it takes longer for the vehicle to get up to speed. Be proactive and bring it in for service as soon as you notice these symptoms.

Slipping
If your vehicle seems to be losing power and having trouble accelerating, your transmission might be slipping. Transmission slipping is also characterized by a high-pitched whining noise coming from your engine. Finally, as your driving, you'll start to notice that your vehicle changes gear without warning. Have the transmission inspected any time you notice these symptoms.

Fluid leak
Because the transmission is a sealed unit, the fluid should never leak. So, if you notice a pink, red, or brown fluid on the ground where you park, bring your car in to have the transmission fluid checked and refilled.
When Should I Change My Transmission Fluid?

Check your owner's manual to find the recommended transmission fluid change interval for your vehicle.

In general, fluid change intervals can vary from as little as 15,000 miles to greater than 60,000 miles for most automatic transmissions. Your driving patterns can affect how often you need to change your transmission fluid. Trailer towing, driving in mountainous areas, and operating your vehicle at very low speeds can produce higher transmission temperatures in your vehicle. In this case, you'll want to change your transmission fluid more often than you would under normal driving conditions.

Talk to one of our Acura auto service specialists to help you decide on the right transmission fluid change interval for your specific model and driving demands.
Schedule Your Transmission Service Today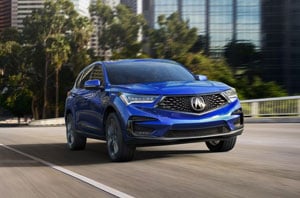 Getting the automatic transmission serviced at regular intervals will extend the life of your transmission components and keep your Acura vehicle operating in top condition for years to come. Call Vandergriff Acura service department or schedule a transmission service appointment online now.
Service Hours
Monday

7:00 AM-7:00 PM

Tuesday

7:00 AM-7:00 PM

Wednesday

7:00 AM-7:00 PM

Thursday

7:00 AM-7:00 PM

Friday

7:00 AM-7:00 PM

Saturday

8:00 AM-5:00 PM

Sunday

Closed